One tree hill-quote
Andrée;
I wonder why ghosts don't need wings to fly, and angels do.

Jamie;
We should google that!


---
oth
"Happiness comes in many forms -- in the company of good friends,
in the feeling you get when you make someone else's dream come true,
or in the promise of hope renewed. It's okay to let yourself be happy
because you never know how fleeting that happiness might be."  - Lucas Scott
---
Quote by Whitey
"He was your dad! No matter what any science or paper said.
He was the man who influenced your life more than everybody else."


---
Quote by Tim
Nathan har nyss blivit kapten i basketlaget & nu ska dom träna!

Tim: Captain Scott..
Nathan: Just Nathan, Tim.
Tim: Captain Nathan..
och så fortsätter det..
Tim: Has it occurred to you to appoint a vice captain in the event
that you're assassinated or smash up another race car?
Nathan: No.


---
Nattinatti!
Onetreehill nattar mig ikväll igen♥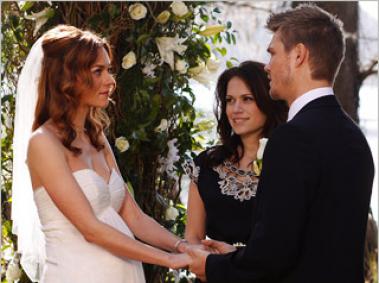 ---
Från One tree hill
Så himla bra tycker jag!
Studentrådsval i skolan, Brooke vill bli ordförande.
The Wreckers spelar på Trick, dom har nyss kommit
upp på scen.
"Thankyou guys, it's soo great to be here in Tree hill!"
Så får hon en liten lapp från nån som jobbar där.
"And.. Vote for Brooke."

LOVE IT

---
Quote from Onetreehill
Nathan: Oh, don't take it personal. He thought you were the stripper.
Lucas: Hey, we prefer to be called exotic dancers.



I love this scene.. Men den har inget att göra
med citatet (a)
---
Quote by Lucas Eugene Scott

"Have you ever wondered what marks our time here?
If one life can really make an impact on the world?
Or if the choices we make matter?
I believe they do. And I believe that one man can change many lives... for better or worse!"

♥
---
---
Quote by Nathan Scott to Julian Baker
"Not when you're overthere sleeping in your lambskin-condom"


---
Favorit i repris
Lucas: You´re thinking about having sex with him!
Haley: Sch!!
Lucas: Sorry...
Haley: It´s just.. it keeps coming up and it..
Lucas tittar på Haley på världens roligaste sett x'D
Haley: Sorry, wrong words.

HAHAHAHA Haley menade att frågan kom upp i hennes huvud men lite (okej, jag tycker det är JÄTTEROLIGT xD) roligt är det allt ;)



Snart kollat klart på säsong 1 (a)
---
Music by Onetreehill♥
Ny musik från One tree hill! :)♥

♥Dare You To Move- Switchfoot


♥Calling All Angels - Train


♥Say Yes - Elliot Smith
(den är MYCKET bättre med Brayn Greenberg men den fanns inte på youtube i en bra version)
---
pluggar till onetreehill♥

Som tröst för mitt pluggande har jag mitt älskade One tree hill♥
Gissa om jag har spolat tillbaka den här scenen ett antal ggr ;)
---
onetreehill klipp
För alla er som känner mig eller som har läst min blogg förut så är det kanske ingen hemlighet att jag är helt gaaaaaleeeen i one tree hill? :)
En av mina absolut favoritserier (har två :P) och jag älskar verkligen dialogerna, historien och musiken i serien :) Så tänkte lägga upp ett par av mina favoritklipp :)

Kiss in the rain♥


It's you


82 letters



So why can't forever start today? 


Stop kissing my wife!



I wanted you to fight for me..

Always and forever. That's wath sucks Haley, I still do love you.


Spola fram till 2.32-4.46
---
Quote by Nathan Scott & Haley James Scott
Haley: Nathan, we would have totally seperate lifes, what would that mean for us?
Nathan: Phonesex!

Kollar som sagt på One tree hill nu så kan komma ett antal "quotes" nu under tiden (a)


---
SPOILER! One tree hill - säsongsavslutning!
Väldigt bra säsongsavlustning tkr jag!

Haley börjar bli bättre och hon är gravid! :D Har väntat länge på att Naley ska få en dotter ;)




---
One tree hill S7 EP21
SPOILER-VARNING AV ONE TREE HILL!

Kollade nyss klart på det senaste avsnittet av One tree hill

Så sjukt synd om Naley o Jamie :/ Haley måste bli bättre men försökte hon typ ta livet av sig!? :o Har läst lite vad som händer i nästa avsnitt och hon dör inte ;p

Hittade sjukaste fina bilden på James Lafferty/Nathan<3
Snyggaste mannen levande? :oooo

---
Ännu mer OTH! ;p
Okej, jag ska försöka sluta men jag är jättetrött o kan inte sova så detta är vad som händer: jag blir flummig och skrattar åt allt! ;p

Haley: So, how goes day 2?
Nathan: Well, I´m mopping, Hales. And I look cool doing it!



En av favorit-bilderna på min Nathan (a)<3
---
Mer OTH som jag skrattar åt x'D
I adooooooooore Tim! ;p

Haley: What?
Nathan: You´re just lucky Tim´s here ´cause I have a thing for girls named Haley James.
Haley: Oh really? Well, you´re lucky Tim´s here too.
Nathan and Haley: Tim, go home!
Tim: What?


---
Är jag trött eller är det seriöst kul ? Ingen aning x'D
Ligger o kollar på OTH!
Shit, har spolat tillbaka till detta ögonblicket sjukt många ggr och jag skrattar som typ aldrig förr x'd För att komma till själva "poängen" så måste jag berätta vad som har sagts innan :p

Lucas: You´re thinking about having sex with him!
Haley: Sch!!
Lucas: Sorry...
Haley: It´s just.. it keeps coming up and it..
Lucas tittar på Haley på världens roligaste sett x'D
Haley: Sorry, wrong words.

Hon menade att en fråga fortsatte att komma upp i hennes huvud x'D
Ingen aning om det är för att jag är ganska trött nu eller om det är sjukt roligt men jag skrattar ;p



Laley - A beautiful friendship
---
One tree hill - music♥
Jag älskar musiken från One tree hill!
Min favoritlåt The funeral hittade jag där! Och såklart Non-belivier är fin!
Har letat efter en låt från näst sista avsnittet av säsong 4 och jag hittade den nu! Times like these av Foo Fighters! Riktigt fin låt :)

♥ Times like these - Foo Fighters ♥
 

♥ The funeral - Band of horses♥
 

♥ Non-beliver - La Rocca♥

---